I thought a great way to introduce myself would be to do a review on the 09 season.
It started out with a very hot summer up here, so the animal patterns were definatly changed.
Since I usually take off for three weeks and go guiding, my wife and I have an agreement that the "Honey-to-do-list" is still in place until I take off. That means I hunt opening weekend here and then no more weekends until Mid Oct. Fair enough. Nothing seen on opening weekend, as the warm summer still had the animals in the thick stuff and up high.
Off guiding I go. The economy is still affecting the GO business, so I only have two clients this year. Both are returners and both shot moose in their first night last time the hunted with me. They draw straws and hunter #1 is up. The first night we set off to look for a moose. This hunt is a meat hunt so thay can shoot any moose they want. After checking out a few spots, we go to the next one. We are doing a sort of scout and hunt trip. After getting to the spot, I let go with a cow call. Hunter #1 says he saw something behind us. i look around a finally see an antler and an eyeball looking at us through the regen. Then he is gone. I call again and out he walks. One shot and he is down. A nice meat bull with a 35" spread. The hunter jokes that it these hunts are working out to ~$4000/hour as he has hunted with me twice for a total of three hours.
The happy hunter and his bull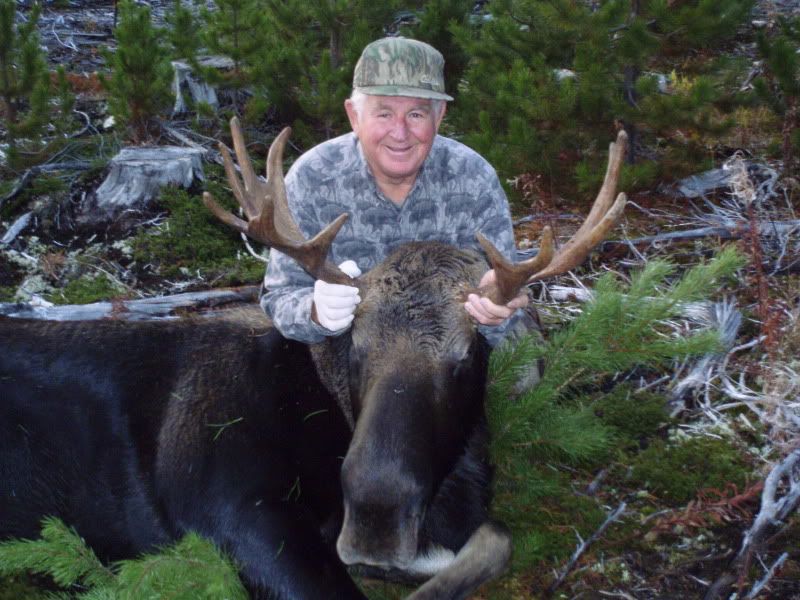 Hunter #2 was now up. We hunted hard for the next couple days, but just could not connect on a bull. Day three started cold, finally some frost and cold weather. We went to an area that has been good to me in the past. Set up and started calling. ~20 min later, we could hear a bull grunting back at us from right below the truck. Damn!! We ran back down towards the truck and woke up hunter #1
to see if he had heard anything. Nope. Now the bull was quite. The wind was in our favour so I called a few more times, no luck. Double damn!!!. As we were walking down the road away from the truck, I let out a long cow call. Instantly, there was an answer staight away from us and coming fast. We could here him breaking brush, smashing branches and sounding like a D6 cat was coming through the regen. Out he walked, into the opening and then onto the lower road, but he would not stop. I grunted at him and he stopped, right where we could not get a shot at him. The the wind tickled the back of my neck and I told the hunter to get ready. As the bull started to move away, I called again, he stopped and three shots later he was down.....right on the lower road. He is a nice bull with a 44" spread and a third main beam off the left antler. Pretty cool
The hunter and his bull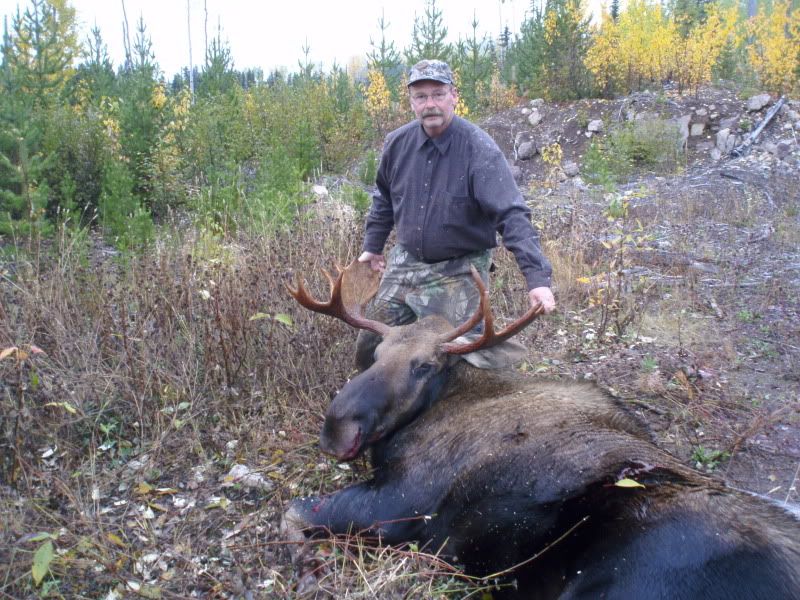 After guiding, the wife and I spent a few days at Cabelas and SportCo, spending way too much money........
The rest of Oct was spent getting ready for winter and sneaking off a couple hours here and there, looking for deer or a bear. One sunday, I found the bear I was looking for, a nice, fat berry bear. One shot and the bear was down.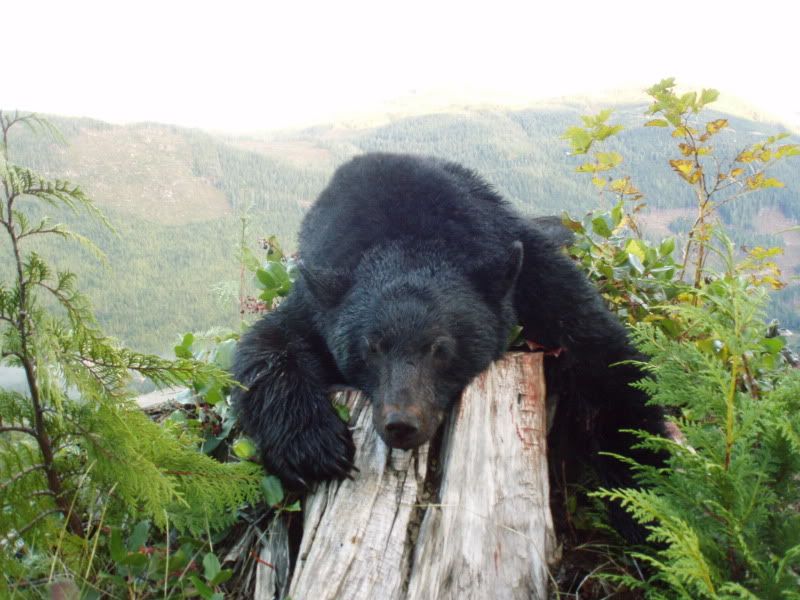 He was an old 5'6" bear that become this
Now that there was sausages and pepperoni in the freezer, it was time to look for a deer or two.
The first week on Nov found me and my partner hunting a new area. After seeing a few does and spikes, I spotted an orange like flash on a hill while glassing. Soon I picked out the body of a buck standing there looking at us. He was 150 yards away and the trusty .270 did it again. One shot and he was down...or at least he disappeared....
We waited 20 minutes and then I hiked up to where he was last standing.
This is what I saw first. As he lay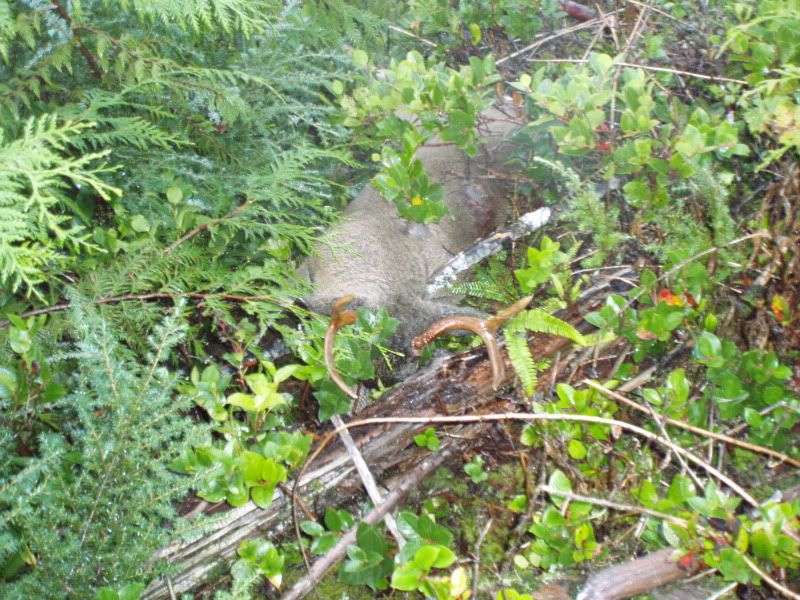 He was a good deer for the Island, a nice two point with a good spread and good body. Sorry for the goofy smile, but the wife says I never smile in the pictures, so I did that for her.....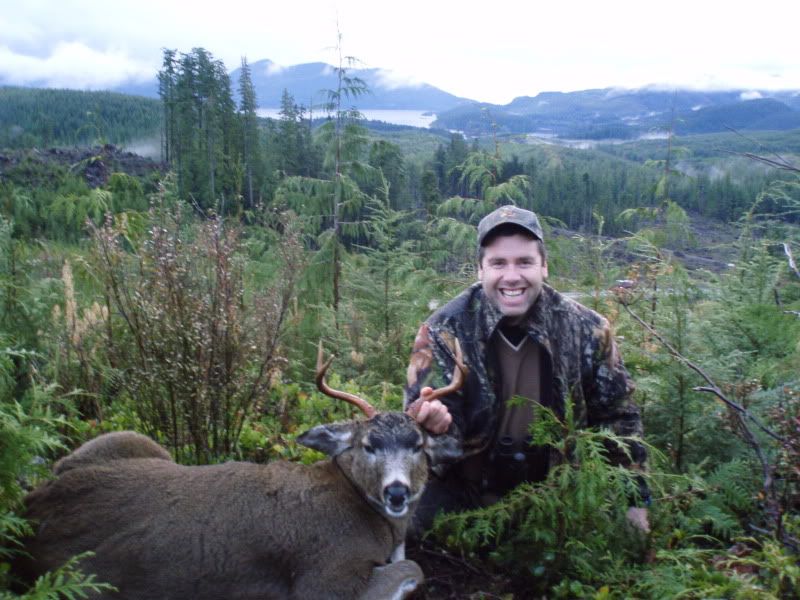 Now we had our steak, roast and hamburger buck, it was time to look for a big one.
The next week, I went on our yearly mulie trip to the interior of BC and put another deer in the freezer. We ended up going three for four on that trip.
A couple weeks later, the same partner and I were out checking the snow level when we fond this guy chasing a doe. My partner put him down with his 6mm.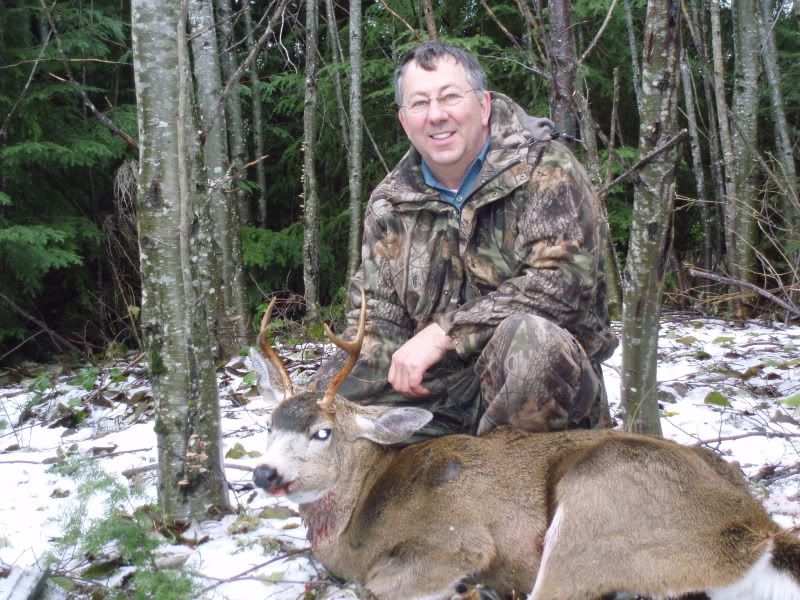 With 2.5 deer and a bear in the freezer, I was now looking for a wall mount. I spent another two week ends plus the last day (Dec 10) looking for one, but never found one. Let a few good bucks walk and saw some great country.
All in all, it was another great season. The wife is happy with the meat and fish in the freezer and I got to spend my time doing something I love. Next year the wife want to go as well.
Sorry for being so long....
Cheers
SS